How To Tell Your Partner You Want A Divorce
"I want a divorce." These words are more powerful than they might seem because of the consequences they have in your marriage and life afterward. Although they can set you free, they can also ruin your marriage if you're unsuccessful. Telling someone you want a divorce is never an easy task. It means facing the person you once loved and asking for separation after spending much of your life with them. It means hurting them.
#1 Phone Tracker & Reverse Lookup
See dating profiles, name, address, pics & More!
You should only think of saying these words to your partner when you're serious enough about it. Sometimes, you may have had enough after trying your hardest, but your marriage seems not to be working anymore.
Starting a divorce conversation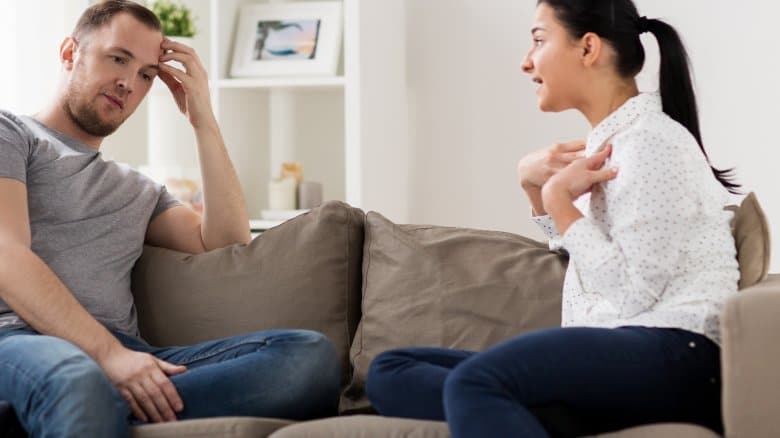 Most people shy away from starting this conversation for some good reasons. You may be one of them, thinking of the investments you have made together, the kids, and also uncertain about your future life after the divorce.
However, no one deserves to spend the rest of their life in a toxic marriage where everything causes sadness and unhappiness. If you're thinking of telling your partner you want a divorce but unsure of how to approach the issue, here are steps to doing it the right way and avoid triggering an all-out war with them.
Be honest and truthful to yourself
Do you want a divorce? Or you're just reacting out of anger after your partner annoyed you? All marriages and relationships have ups and downs. Marriage is not a bed of roses. Sometimes you will get frustrated and disappointed by your partner. But this does not mean that you now call the shots and threaten your partner about getting a divorce.
Get an Instant Online Background Check
Prepare to Be Shocked! See the Truth - Just Enter Any Name to Begin!
You need to be sure that you really want the divorce. You need to assess the situation and see what you stand to lose after the divorce. Do your children deserve to feel the consequences of your partner's wrongdoings? Will they live to blame you for separating the family when they grow up? Ensure that your actions will not eat you in the future. After being sure about the divorce, and considering everyone affected, you can now call for the shots.
Don't Ambush your partner.
Even when they know the pain they have caused you or how unhappy they have made you be, you don't need to ambush them at any time. If they have no idea you are about to break the marriage, they will be in shock when you tell them. Let them know you need to have a serious discussion about it and have an appointment specifically to say to them the news.
Pick a private place.
You need to pick a place with no distractions to have such a meaningful conversation. If you're concerned about your safety, you should consider going to a public place where you will be protected against their reaction if you think they will react negatively after telling them the news.
Be ready for anything.
By now, you probably know how your partner reacts to such shocking news. But you don't have to assume this. You need to be prepared for anything. Be ready for anger and emotions running high. There is no easy way to tell someone you once loved that you want a divorce. Obviously they won't take the news lightly, and you need to be ready for anything they will throw at you after you break the news. Telling your partner you want a divorce is a stressful conversation that may involve tears, anger, denial, blame, and heated arguments.
Once you have made up your mind about the divorce, don't take too much time before telling them. You will find it even harder to break the news. If you think you will struggle to speak to them, even though you really want them to know, bring a counselor to the discussion with you or even a friend.
Have a plan of what to tell them
Telling your partner you want a divorce is not something to be taken lightly. You need to have a plan that will help you share your feelings with them. You need to be as straightforward as possible about your message. When telling them you want a divorce, you can begin with telling them the reasons why you have been considering this move, how you have tried as much as you can to save your marriage without success. Then you can tell them you have decided to end things with them. Letting them understand your unhappiness and the seriousness of the situation will make them feel remorseful before you break the news to them.
Avoid blame game
Criticizing your partner and blaming them for everything that didn't work out in your marriage will make them angry and raise their temper. This is not your goal when telling them you want a divorce. You want to end things up peacefully and let everyone go their way without feeling the guilt. An excellent way to avoid blaming your partner is using first-person statements while focusing on neutral language. Ensure you only tell them how you feel and not how they made you feel. Also, be sympathetic about their feelings. Tell them you understand how it will be hard for them, but you just have to move on with the divorce.
Avoid trial separation
Your spouse may request to have a trial separation instead of the actual divorce that you want. Tell them you want a divorce and that you already made up your mind. Otherwise, if you agree to have a trial separation and see whether thongs work or not, you will be back in the same room again in the future. You won't have solved any problem in your marriage.
Maintain boundaries
After telling your partner you want a divorce, feelings of guilt may come your way and may even push you confronting your partner. If you don't stay away, you will find yourself showing them affection which will still land you back in the hole you got out of. Keep your distance from them, and don't try sending mixed signals to them. Ensure they know your decision and that nothing will be happening between you two after the divorce.
Engage an attorney
Engage with a collaborative attorney that makes you feel comfortable and file for a divorce right away without having second thoughts. Have all the documents you need to set up the stage for divorce and set yourself free from what you believe has been holding you down for too long.
Easiest Way to Catch a Cheater
Enter Any Phone Number & See Relationships, Dating Profiles, Name, Address, Pics & Much More!